1-14 Field Artillery Battalion
"Steel Warriors"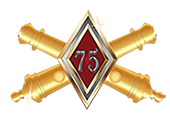 Vision Statement
A disciplined organization made up of physically fit and mentally resilient Soldiers committed to each other and their families that exemplify the Army Values, enforce standards, are experts of their Army skills, and that is ready to fight and win our nation's wars.
Constituted on July 1, 1916 in the regular Army as the 14th Field Artillery Regiment, the unit was organized June 1, 1917 at Fort Sill, Okla. The unit was redesignated Jan. 8, 1942 as the 14th Armored Field Artillery Battalion and saw action in World War II. In 1944, the battalion was part of the allied amphibious assault at Normandy and the subsequent drive across northern France, the Rhineland, the Ardennes-Alsace and central Europe.

On Feb. 15, 1969 the battalion was reassigned to the 23rd Infantry Division and placed into action in Vietnam where it participated in numerous campaigns to include the 1968 and 1969 Tet Counteroffensives.

In May 1993, Fort Hood, Texas became its home for a short period before it was relocated to Fort Sill and activated on June 7, 1996 as part of the 214th Field Artillery Brigade, III Corps Artillery. From the beginning of the Global War on Terror, the 1st Battalion, 14th Field Artillery has continued its proud tradition of service to our Nation.

On Mar. 20, 2003, the battalion deployed to Iraq and was attached to the 41st Field Artillery Brigade as part of Task Force Bullet.

In 2006, the battalion's firing batteries trained on the use of the Q36 and Q37 fire-finder radar systems, after which they deployed on three target acquisition missions to Iraq and Afghanistan from 2006-2008 in support of Operations Iraqi Freedom and Enduring Freedom.

In July 2007, the battalion received the 578th Forward Support Company to provide support to the battalion during high-intensity operations.

In March 2008, the battalion received the M142 High Mobility Artillery Rocket System (HIMARS), which gave the battalion the ability to rapidly deploy and deliver precision-guided fires.

In April 2013 to January 2014 the battalion deployed to the United Arab Emirates in support of both Operations Spartan Shield and Enduring Freedom.

In 2015, the battalion was reassigned to the 75th Field Artillery Brigade, III Corps Artillery. The unit deployed two firing batteries to separate locations to provide surface-to-surface precision fires in the Central Command area of operations in support of Operation Freedom's Sentinel, Operation Spartan Shield and Operation Inherent Resolve.

Today, the battalion stands ready as III Corps' only HIMARS-equipped battalion supported by a highly skilled forward support company ready to conduct rapid deployment and provide lethal precision and area fires around the world.