Audio Tour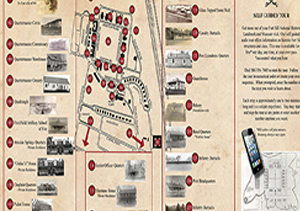 Get more out of your Fort Sill National Historic Landmark and Museum visit. Our self-guided audio tour offers information on historic Fort Sill structures and sites. This tour is available for free* any day, any time, at your own pace. You control what you hear.Dial (580) 354-7045 to start the tour. Follow the tour in numerical order or create your own sequence. When prompted, enter the number of the stop you wish to learn about.

Each stop is approximately one to two minutes long and is a unique experience. You may start and stop the tour at any point or enter another number anytime you want.

*Will utilize call plan minutes. Roaming charges may apply.

100 - Introduction
101 - Limestone Quarry - On East side of I44
102 - Quartermaster Corral
103 - Quartermaster Warehouse
104 - Quartermaster Commissary
105 - Quartermaster Granary
106 - Quadrangle
107 - First Field Artillery School
108 - Artesian Springs Quarters - Private Residence
109 - "Cricket's" House - Private Residence
110 - Chaplain Quarters - Private Residence
111 - Picket House
112 - Chapel
113 - Interpreter House - Foundation only
114 - Senior Officer Quarters - Private Residence
115 - Sherman House - Private Residence
116 - Ambrosia Springs House
117 - Apache Hospital - Where Geronimo Died - Plaque only
118 - Comanche House - Post Lodging
119 - Glass Topped Stone Wall
120 - Cavalry Barracks
121 - Laundress Quarters
122 - Guardhouse
123 - Bakery - Foundation only
124 - Band Quarters - "Wichita House" - Private Residence
125 - Infantry Barracks
126 - Post Headquarters
127 - Infantry Barracks - Visitor Center
128 - Balloon Hanger - At Airfield
129 - Conclusion