USAFAS United States Army Field Artillery School
"The Official Homepage of the Field Artillery School"

Mission Statement
The Field Artillery School trains Soldiers, Officers and Marines in tactics, techniques and procedures for the use of fire support systems in combat. The school provides individual training from the basic level to mid-level leadership skills. The school supports collective training of lessons learned on todays battlefields by maintaining a professional conversation with Soldiers and Marines in the field through the Fires Bulletin magazine, blogs and other media, and by supporting high-tech gaming simulations for the advance training of staff elements throughout the military.

At all times, the school supports the field artillery mission, which is to destroy, neutralize, or suppress the enemy by cannon, rocket and missile fire and to help integrate all lethal and nonlethal fire support assets into combined arms operations.
History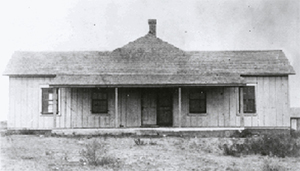 At the turn of the last century, field artillery officers and soldiers rarely got to train (and never got to train in massing fires and other advanced skills). To remedy this trend, President Theodore Roosevelt sent Army Capt. Dan T. Moore to observe training at European field artillery schools. Based on Moore's favorable report on the German Artillery School, the War Department decided to open a field artillery school. Moore was dispatched to Fort Sill, Okla., in 1910 to organize the School of Fire for Field Artillery that would train officers and noncommissioned officers. The school opened in September 1911 with Moore as commandant. Its mission was to provide theoretical and practical instruction on the latest weapons and fire direction procedures. The Mexican Revolution forced the school to close in the spring of 1916 as students were sent to guard the Mexican border. After the United States entered World War I, the school reopened in 1917 with Col. William J. Snow as commandant. The Field Artillery School, as it was now known, added more courses. After the war, school commandants began a long-range program to improve field artillery mobility, gunnery and equipment. Budget cuts during the 1920s hampered their efforts, but innovative directors of the Gunnery Department, with support from school commandants, helped modernize the field artillery in the 1930s. Maj. Carlos Brewer, director of the Gunnery Department in the late 1920s and early 1930s, introduced new fire direction techniques so fire support would be more responsive. Maj. Orlando Ward, the next department director, developed the fire direction center to centralize command and control and to facilitate massing fire. Brewer, Ward, and Lt. Col. H.L.C. Jones encouraged replacing horses with motor vehicles for moving field artillery guns.

World War II
To best use new long-range guns and better response times, the Field Artillery School championed the use of air observation to control artillery fires. The War Department approved organic field artillery air observation in 1942. The artillery air observers adjusted massed fire and performed liaison, reconnaissance, and other missions during the war.

Cold War (and after)
Following the war, the school adapted to the atomic age and the Cold War. The War Department consolidated all artillery training and developments under the U.S. Army Artillery Center at Fort Sill in 1946. At that time, the center included the Artillery School, the Antiaircraft and Guided Missile School at Fort Bliss, Texas, and the Coast Artillery School at Fort Scott, Calif. The air defense artillery became its own branch in 1966. In 1953, school personnel fired the first nuclear-capable fieldartillery gun (the 280mm gun known as Atomic Annie) at Frenchman's Flat, Nevada. During the 1950s, school personnel also helped develop rocket and missile warfare (The U.S. arsenal included the Honest John rocket, Corporal missile and Redstone missile) that could carry a nuclear warhead. In 1963, the school tested aerial rocket artillery, which equipped helicopters with rockets. As demonstrated in the Vietnam War, aerial rocket artillery was effective. The school cooperated in the development of the Field Artillery Digital Automated Computer, commonly called FADAC, to compute fire direction data. Introduced in 1966-67, FADAC made the field artillery a leader in computer developments for the Army. After the Vietnam War, the school participated in the introduction of the Multiple-Launch Rocket System the Army Tactical Missile System, the Paladin 155-mm. self-propelled howitzer, and other field artillery systems. The field artillery's performance in military operations in Operation Desert Storm in 1990-91 and Iraq and Afghanistan from 2001 to today validated the school's modernization efforts. Field artillery Officers and Soldiers can do complicated logarithmic calculations to fire a mission in one moment or they can escort a supply convoy, secure prisoners, patrol a village or any other mission the next.

Evolution of the School of Fire for Field Artillery
Field Artillery School (1919-46)
The Artillery School (1946-55)
The Artillery and Guided Missile School (1955-57)
U.S. Army Artillery and Guided Missile School (1957)
U.S. Army Artillery and Missile School (1957-69)
U.S. Army Field Artillery School (1969-present)