1-40th Field Artillery Battalion 434th Field Artillery Brigade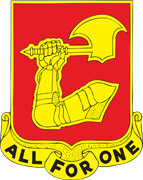 LTC Daniel W. McManus
Commander
CSM Angelo M. Johnson
Command Sergeant Major
History
The 1st Battalion, 40th Field Artillery was originally organized at Camp Custer, Mich. on July 5, 1918. World War I ended before the unit could deploy, and the 40th field artillery was demobilized in February 1919.
Reactivated on June 4, 1941 at Camp Roberts, Calif.; the unit was redirected as A Battery, 974th Field Artillery. Following training in the U.S., the battalion deployed to Europe and landed on Omaha Beach on July 4, 1944. The unit spent the next 281 days in continuous combat and fired more than 60,000 rounds on enemy positions. During this time, the unit supported breakout operations in Normandy, the pursuit of enemy forces across France, the containment of the Belgian Bulge and the final drive into central Europe.
After returning to the states, the battery was inactivated in January 1946, at Camp Patrick Henry, Va. Reassigned as the First Howitzer Battery, 40th Field Artillery, the unit was reactivated in February 1966 at Fort Sill, Okla.
After it was trained, the unit was reorganized and designated 1st Battalion, 40th Field Artillery on Aug. 15, 1966. Red legs of the "All For One" battalion further secured a place in history during the Vietnam War when it was the first U.S. Field Artillery unit to fire into North Vietnam while supporting special operations forces at Con Thien. After it returned to the U.S. in November 1969, the battalion was inactivated at Fort Lewis, Wash.
More recently, the 1st Battalion, 40th Field Artillery was activated as part of the field artillery training center in a ceremony on the Fort Sill Polo Field on Apr. 19, 1996. Today, the "All For One" battalion's mission is to conduct Initial Entry Training, and continues its tradition of service to the nation by providing the Army with well-trained soldiers in support of the global war on terror.